Last weekend's big "evening with" show was absolutely amazing (thank you and hello! to all my new pen pals here who signed up). I brought out the cajon, the ukulele, more than a few deep cuts from my 2010 solo CD, and some new songs that have barely seen a live show. The most terrifying thing; there was no intermission scheduled. Once I stepped on stage … it was all me for 90 minutes. So, I had to figure out how to break it up, creating some kind of sonic breathing room around the center.
I put down all my instruments before more than 100 people, and did a 3-minute performance poetry piece I wrote about math. And the crowd went wild!
Today's 2-Minute Tale
Sometimes I cheat on Music. Music is definitely the steady love. She knows I always come home, but that my artsy heart can't commit completely. I spend a weekend here or there with Graphic Design (these cuttlefish pins are my creation, including the packaging).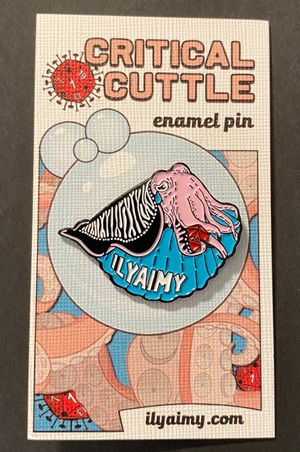 I Doodle with date-night dinners, leaving a sketched eye on every paper placemat and tablecloth I sit down to. And I keep one mistress, a little beatnik chick called Poetry.
Music would start to nag a little too much; the old stories repeated too often, the sweet voice I loved suddenly nails on chalkboard. But I still needed rhythm from somewhere. My longing would lead me to the streets of downtown Baltimore for a palate cleanser: a poetry slam in the basement of a Cosi Bread Company. There I heard national champions, local heroes and Def Poetry Jam alumni. Their provocative topics, slant rhymes, off-kilter meters, speed and impeccable diction intoxicated me completely, and influenced me profoundly.
I visit Poetry less often these days, but I can see her in every song I write, winking back slyly from "No Lantern," "Good Heart," and brazenly naked in older tunes like "I Am the Wreckingball." She left me a few other remembrances, among them this piece I used to perform in that Baltimore basement (once I was brave enough).
MONARCH HEARTS
I have been witness to the butterflies of your eyelids
finding their kind here in my stomach.
I want to reunite them, let them fly to our lips,
finding their wings as we find our forgiveness
for being only human, only wingless.
I dream of those kisses,
black eyelashes brushing me with fine ink limbs of softness,
affection expressed in sketches.
I – with hummingbird heart,
You – in cricket leg-hand love letters
left on beds of daffodil petals.
You bring me pleasure beyond nectar,
and this is more than the sugar water they keep feeding us.
I know real sweetness when I see it,
and the ambrosia of completeness is rare indeed.
But we pair to make whole where
we didn't even know was a hole there,
filling with hope these heavy hearts
once so empty with despair …
See,
wet-winged and fresh, we couldn't know
that our paradise was under glass.
That our Eden was confined.
In the butterfly house they wait,
impatient 'til the last one dies,
mistaking our carnelian color,
for leaves descending in the gutter.
But they say one flutter
can change the course of history, of the hurricane.
And if what you've done to my heart says anything:
These palpitations
could be solving hunger in third world nations.
While we sleep, you tangled up in me, just breathing,
could grow fields green in wastelands.
One touch of our hands could stop car accidents,
end civil wars on distant continents.
One wink, one kiss,
and the end of the world will wait,
pausing to consider this -
That they cannot rule us
Because we
have monarch hearts.
* * *
Thank you for letting me reminisce about Poetry. She's so hot. But as promised, I will come home to Music again this weekend. And you can … um … watch. From anywhere. Ahem. Excuse me.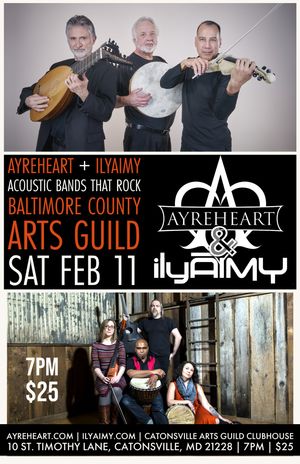 TOMORROW!
You can watch from anywhere because there is a livestream option! With impeccable audio, too. Grab your in-person or livestream-specific tickets here: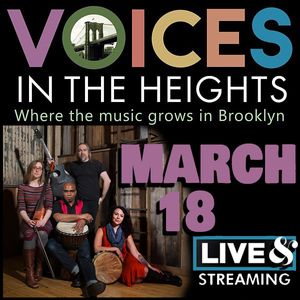 You can watch from anywhere because there is a livestream option! Grab your in-person or livestream-specific tickets here:
Write me. Add me to your mailing list. Come to a show. I'll let you watch.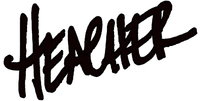 BACK ISSUES (full of free stuff!): 
#1: New Year, Free Tune, Quick Tale
#2 The Dream, A Fairy Tale, A Love Song
WEBSITE | BANDCAMP | INSTAGRAM | FACEBOOK | SPOTIFY | YOUTUBE | ILYAIMY