Hello, new members! Don't forget to check the bottom for backissues!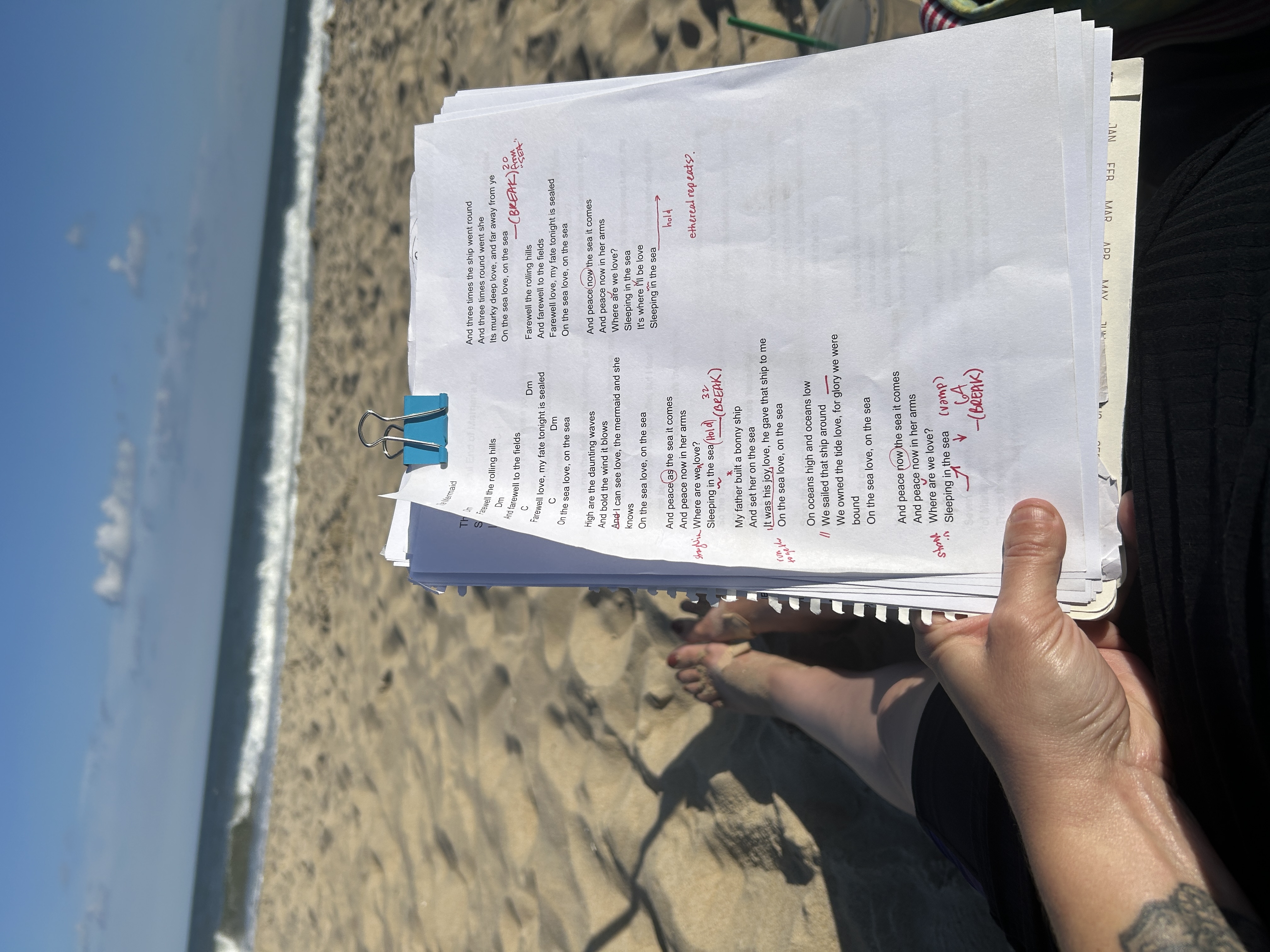 Breathe, Heather. Why is everything moving!? Gigs lost. Gigs gained. Opener becomes headliner. Postponed for rain. A show becomes homeless. Strains of ick. Today I'm trying to sort it all out from my desk chair. Two weeks ago, I took spooky ballads to the beach with me to cram. I fit it in and I make it work … and sometimes in between I make dinner. I saved you some dessert (if you eat these vegetables).
Today's 2-Minute Tale
My husband marvels at how I manage to work in the kitchen while touching absolutely nothing. It's finally chilly enough that my sleeves graze my fingertips, and I tuck the fabric into my palm as a barrier to every drawer pull, faucet, light switch and refrigerator handle. The first germs of the school year have crept into the house.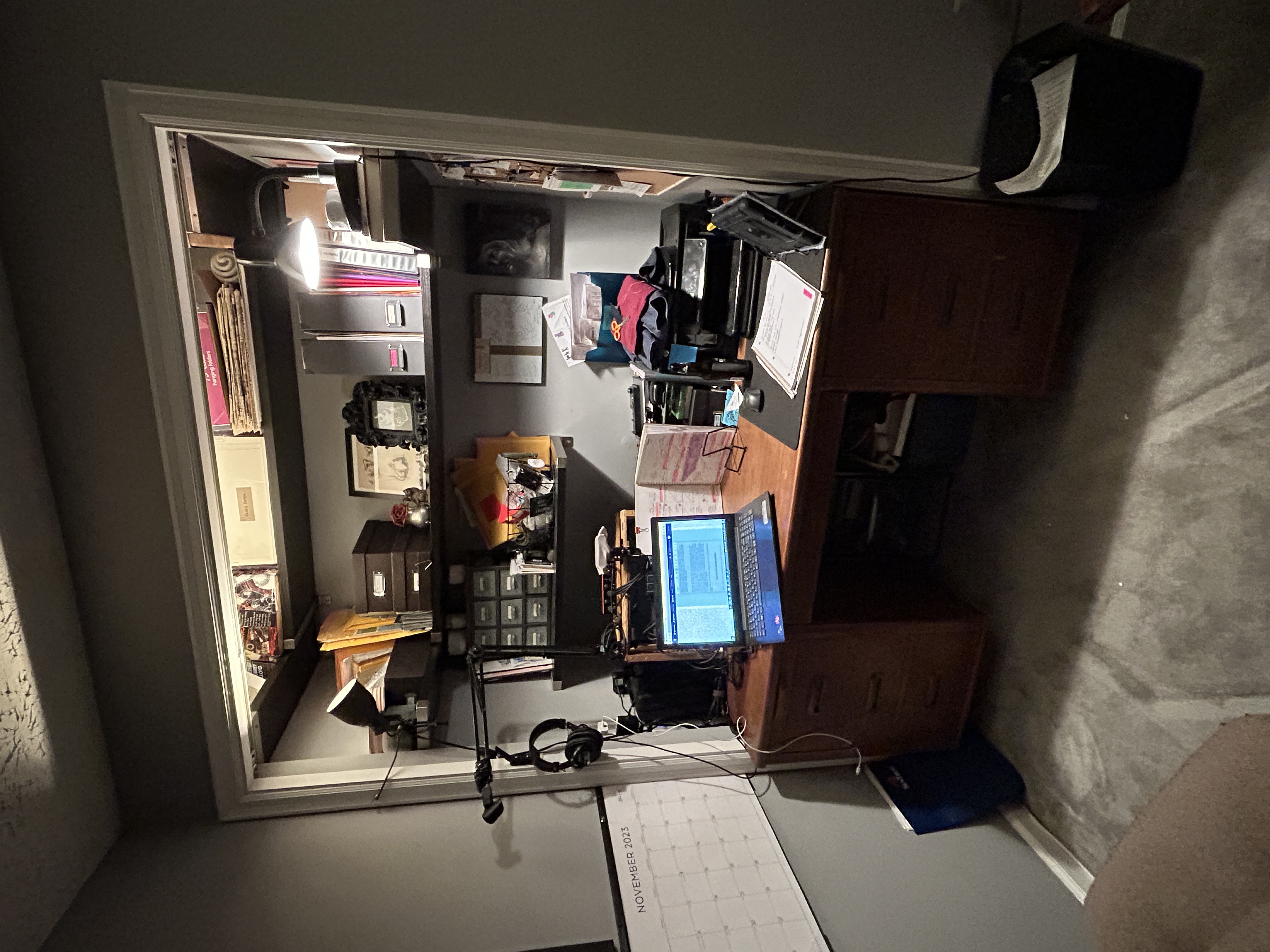 At home, I have one place that is mine, as much a mental clean room as sanctuary from the sniffles: my office. When I moved into this crowded house, I sensed the importance of seizing such a space. A place not utterly off limits to others, but with a thick incense of never without permission, just as the pipe smoke of my father's office smelled inviting but distinctly adult. I claimed a disused sitting room adjoining the master bedroom and got to work before life could start getting in the way. 
It's about the size of a single college dorm room, a coziness that cradles. I chose a gray called Silverstone for the walls. I removed the doors to the closet and Cinderella slippered in my desk (dubbed "The Desk of Future Heather" during its time in storage - a $25 goodwill find that charmed me all the more for the 1975 Farm Income tax forms plastered into the top right drawer).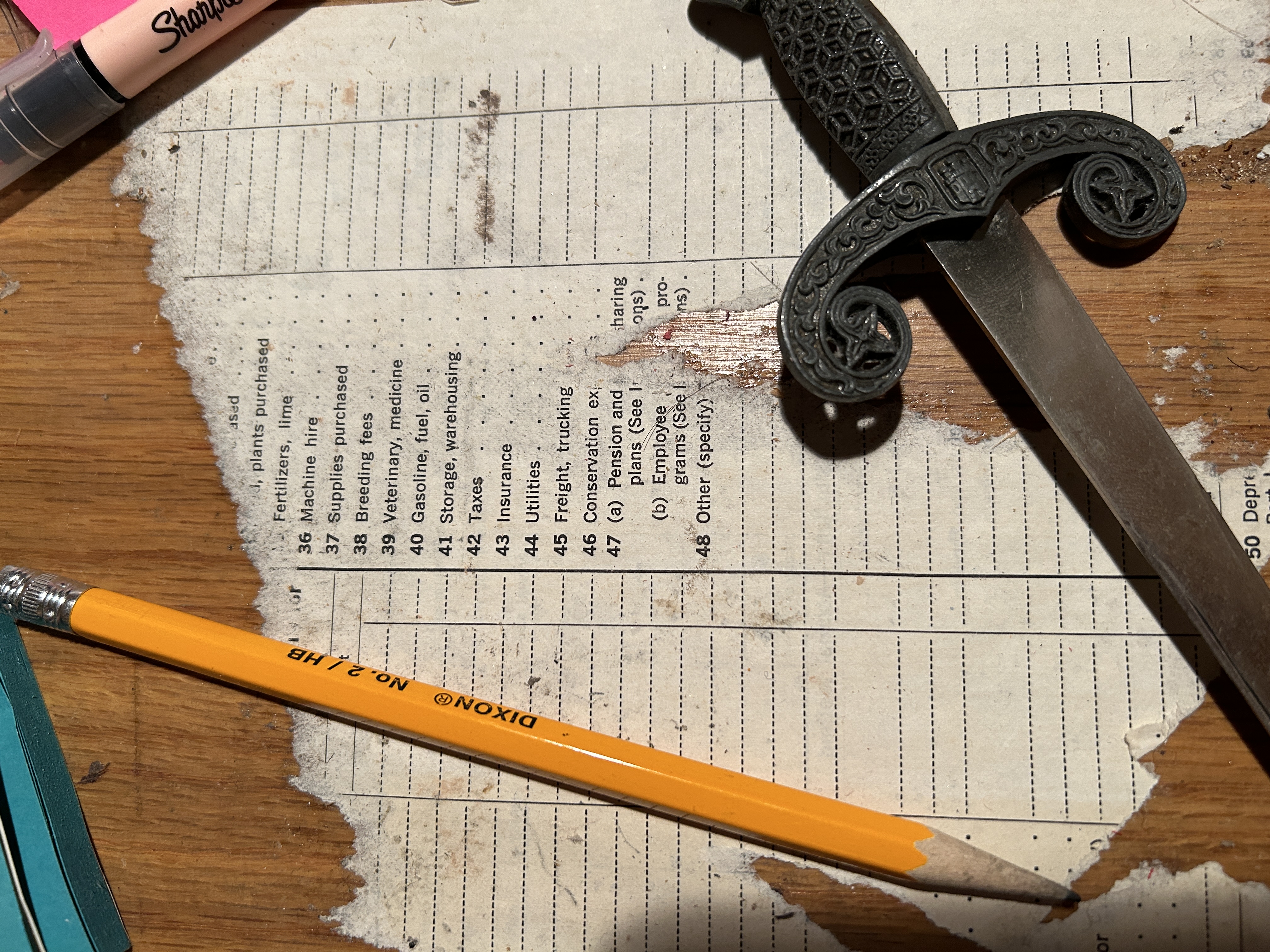 This desk is the sturdiest thing I own, characterized by the same sure squatness of Craftsman-style cottages, a design principle that unfailingly appeals to me. 
The reading nook chair, reupholstered in the charcoal gray I find similarly comforting, bears the same proportions, wide and low, behind a table I made from a shorty sewing treadle. I have always liked gray and short, apparently, which feels antithetical to my developing discomfort with aging.
I am quite proud of the table. I had a vision. There were chisels involved. It is a timeless, rich-looking fidget toy. Into the top, reclaimed from a (also squat) bookshelf, I cut a sliver that allows the wheel to spin just through its surface. When permission is issued to a (healthy) child to enter, they therapeutically pump the peddle throughout our conversation, periodically stopping to praise my taste in furniture.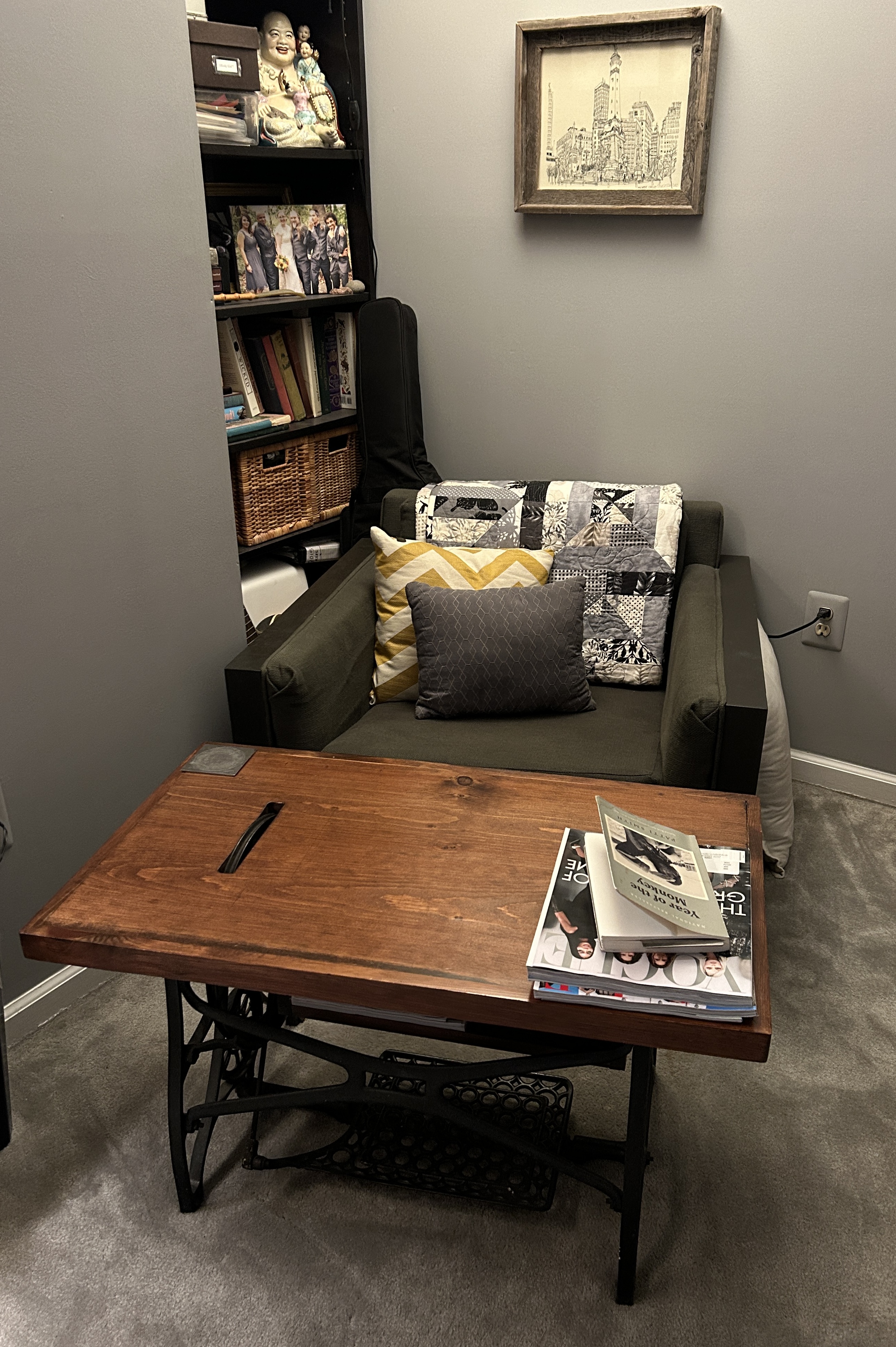 There are artifacts of my grandparents: Quan Yin presides mercifully over my shelf of travelogues. Foo dogs guard my fairy tales. The same curtains that flanked my wedding altar deny passage into the room – even to my husband - if I close them tightly enough.
There are very few places in the world we may keep just as we like, without the tug of consideration or the threat of gentrification. Worlds begin dying the moment they are discovered. Like my favorite campsite near Assateague, where I would annually abandon speech, company and conventional timepieces, sink my chair into a near-abandoned beach, and read until the waterline told my bottom it was time to start a campfire for dinner. One year, I came back and it had been discovered, all fresh paint and families full of stiff-sleeved children. And that was that.
* * *
Still hungry for dessert? Not far from one paradise lost is another, a little town called Berlin, MD. When I was a child, its junk shops and rocking chairs seemed magical to me, as if even the hardware store would transport you somewhere if you chose just the right bolt. Then Berlin found its way into movies like Tuck Everlasting, Runaway Bride … and into one of my earliest songs, "Save Berlin." I hope you enjoy this relic revisted, recorded earlier this month at our 20th TourVersary Show. I hadn't sung it in years. It's a heartfelt letter to a love I was leaving for The Road, all about the fantasy life we might preserve in a town preserved in its own quaint past, like a set of concentric snowglobes. 
I took a break from the beach and the ballads, by the way, and checked on that little town. No more rocking chairs. No more model train shop. But in the slightly less junky shops, there are still Life magazines. And snowglobes.
My life feels like someone keeps shaking it up for fun, not realizing that I live inside.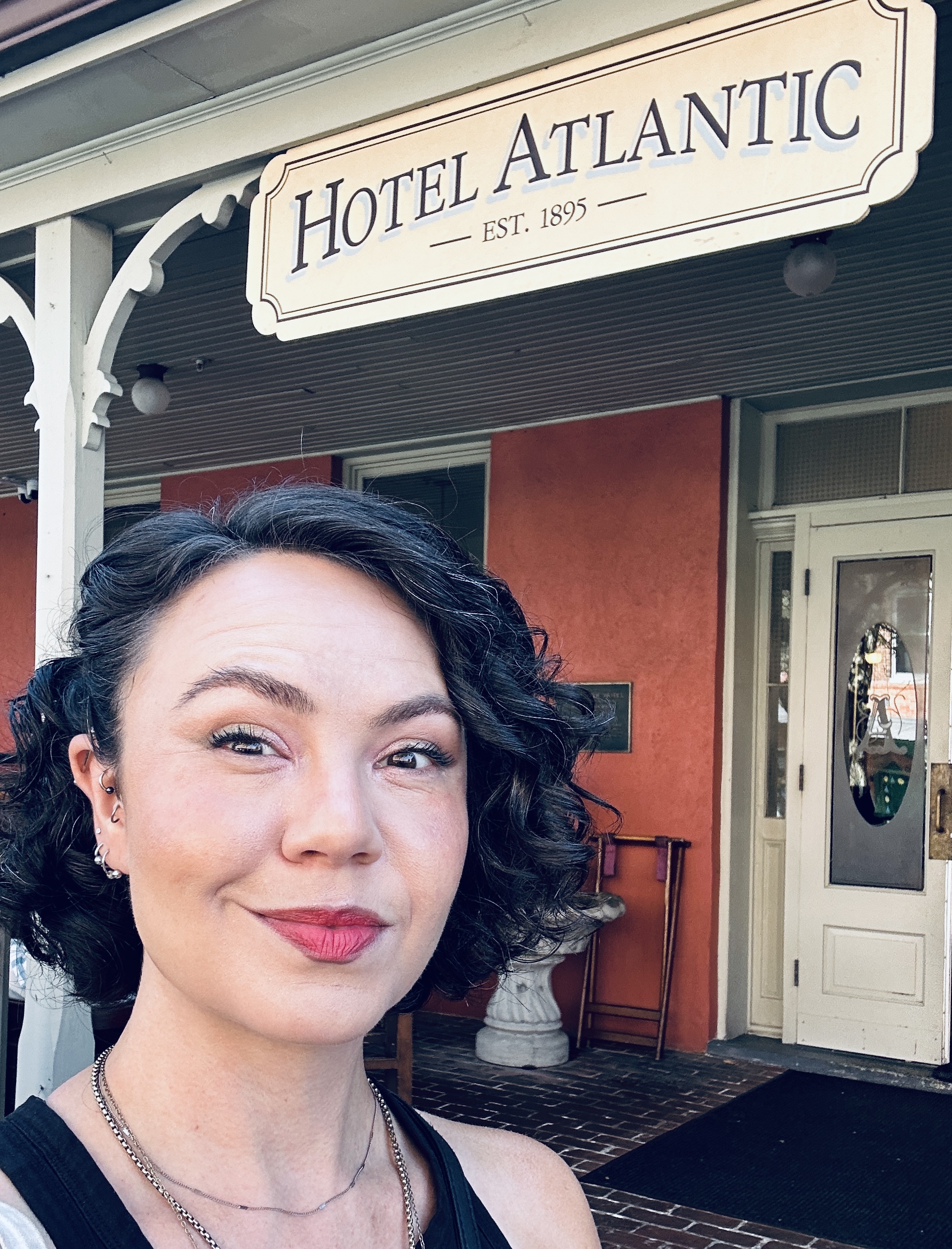 Including: Worman's Mill, Sugarloaf Mt. Vineyard, Lena's Alexandria, Fells Point Fest, Folk Music Ontario, Chapel Apple House Concert (Massachusetts), Celtic Halloween at Creative Alliance and more with Ayreheart.
Write me. Add me to your mailing list. Come to a show. Shake things up.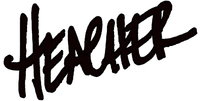 BACK ISSUES (full of free stuff!)
WEBSITE | BANDCAMP | INSTAGRAM | FACEBOOK | SPOTIFY | YOUTUBE | ILYAIMY